Selling to Hospitals 101: The Hospital Sales Cycle
March 20, 2018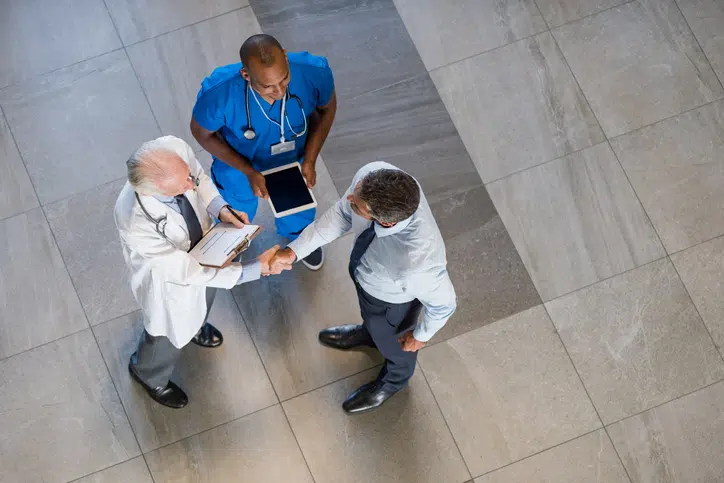 How Long Does It Take to Sell to Hospitals?
If you're new to hospital sales—or healthcare sales in general—prepare for a long sales cycle. Selling to large healthcare organizations can take many months and requires talking to many different stakeholders along the way, including clinicians, purchasing agents, and executives. Of course, the faster you get an appointment with a decision-maker, the faster you may be able to close the deal.
Another way to maximize your window of opportunity is to find out the fiscal year-end for the hospitals you are targeting.
Start by looking up hospitals on GuideStar, a site that provides up-to-date information on , including revenue and expense data for the current year, balance sheet data for up to five years, contact information, and a full listing of board members. If you miss a lead's cycle, keep them in your pipeline but shift focus to someone else.
What is the Hospital Procurement Process?
The World Health Organization's Procurement Resource Guide summarizes published health technology procurement guidelines and best practices for users "in a procurement division or hospital management of a national or regional government health service body." In this document, the WHO outlines the following steps of the standard procurement process:
Evaluation
Planning and Needs Assessment
Procurement
Installation
Commissioning
Monitoring
For medical device manufacturers, pharmaceutical companies, and other businesses looking to land their first big hospital contract, the focus needs to be on steps one through three. Although sales cycles and procurement steps vary considerably (see example hospital purchasing guides at the end of this article) the WHO model is a good place to start if you are new to hospital sales.
Be a Better Hospital Vendor
If you want to be considered for more hospital contracts, start by focusing on how you can be a better hospital vendor. Purchasing agents and other decision-makers have certain procurement objectives that must be met. Companies that understand these objectives are better able to express how they (and their solutions) can help hospitals achieve their goals.
What are these objectives? Performance measures and indicators for the procurement process suggested by the World Health Organization include:
So, how can you use this information to be a better vendor? For starters, these "performance indicators" give you an idea of the challenges purchasing agents face.
At the early stages of selling to a hospital, focus on demonstrating how your company and/or solution will improve procurement performance based on the above indicators. For example, if you have a low percentage of late or damaged deliveries (supplier management) or other customers report low maintenance and repair costs (quality control of equipment and facilities), make sure to highlight these facts in early talks with hospital purchasing agents.
Example Hospital Purchasing Guides
If you want to learn more about the ins and outs of selling to hospitals, we recommend diving into these purchasing and procurement guides:
John Hopkins Vendor Policy Guide
Mount Sinai Medical Center Financial Policies & Procedures User Guide
Healthcare Lead Generation Experts
If you rely on selling to hospitals, Intelemark can help you break through barriers and get in touch with the influencers and decision-makers who matter. We know how to communicate with purchasing agents, administrators, executives, and anyone else responsible for making purchasing decisions within a hospital or  healthcare system.
Schedule a test campaign to learn how a customized healthcare lead generation and appointment setting campaign can help you deliver the right message to the right audience to drive outstanding results.